Africa is known as the home of various cultures and ethnic groups. A very popular ehtnic group in the continent is that of the Yoruba. One of the things they are known for is their rich culture, which can be observed in the way they celebrate every occasion. They are also known for being the most civilized ethnic group. Even before the arrival of colonizers, they used to live in urban areas and well-structured houses. They have a particular style of clothing that make them distinct from other groups. Most of the Yoruba are native to Nigeria, where they make more than 20% of the population.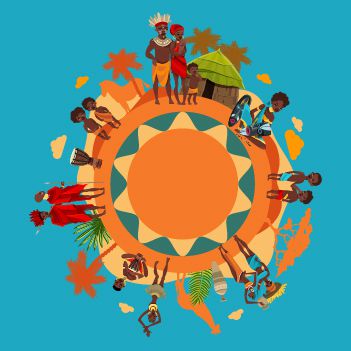 The Yoruba Language:
With native speaker of approximately 40 million, the vernacular of the Yoruba is pretty popular. Looking for the speakers of this tongue? You can find most of them in Nigeria. And if you need to find more of them then look to Benin. But it is not limited to these countries. It is quite widespread in Africa. It is closely related to a few other vernaculars of the region. It also has plenty of dialects. They are all divided into different parts of Nigeria. Whenever the tongue mixes with the vernaculars of other ethnic minorities, it adopts some new aspects. That's how most dialects were born in the region.
The standard version of the tongue that is taught in schools had its origin in the 1850s. It is also used by news channels today. Interestingly, the language used to be written in the form of Arabic script. That was largely because of the influence of the Arabs on Africa. Arabic became the language of trade and affected several vernaculars of the region. However, Yoruba grew out of that influence and adapted the Latin script later when the writing system underwent an upgrade. The standard form of the tongue has six vowels. All the dialects do not have the same number of vowels.
Yoruba Translation Services:
Africa, as a continent, had a lot to offer its people. But its resources got taken away when colonizers turned their eyes on the continent. The people of the continent were used as slaves for mining, and their resources were stolen. As a result, the continent became poor. Even today, the people of Africa have not been able to get rid of poverty completely. Many nations are fighting different problems every single day, and there is no chance of improvement in the near future. In such a situation, a lot of people turn towards developed nations. However, whether they wish to do business or immigrate to a first world country, they will need assistance to get over the linguistic barrier.
Yoruba translation services are what people will need to communicate with the outside world. Although the vernacular has plenty of speakers in Africa, it is not recognizable in the Americas and Europe. So, people will need the help of linguistic experts to be able to communicate with others effectively. Businesses will need the help of expert translators to connect with their target audiences and to advertise their products. Anyone in need of such services should turn to a reliable translation agency so they can get quality assistance at affordable prices.
Certified Translation and How to Get It:
One of the ways in which people try to change their lives is by immigrating to a first world country. However, the immigration process keeps getting stricter with every passing day. People have to fulfill so many requirements if they want their applications to be accepted. Those who have not prepared for the process beforehand will fail. But the ones who did their research beforehand and got in touch with the experts will be able to get through the process easily.
One way of getting ahead of the system is to get your certified translation before the deadline. When you are applying for US immigration, you will need to submit a certified English translation of your birth certificate. This is the only type of translation accepted by immigration offices. But if you have never heard about it before, you will be wondering how to get it. The solution is pretty simple. Do online research about translation agencies, read reviews left by their previous clients, and pick the one that has the best rating. Once you have picked an agency, you can order their services through their website. Some of them will even give you a free quote beforehand so you can figure out whether their services are good for your budget or not.
Make sure the agency you are hiring knows about certified translations and has immigration experts on their team. An experienced translator will be able to provide you with better results than someone who does not know about the immigration process. Once you get the translation, you can attach it with your application, and submit it to USCIS. If you get a translation before the deadline, you won't have to panic at the last minute, and you would be able to take care of other matters during that time.
With the help of good planning, you can really turn around things. When you are well-prepared for something, there is a high chance that you won't fail. When you are committed to something, give it your hundred percent. Because when you are honest about something, you will be able to find reliable people to help you too. You will be able to find the right experts and get over linguistic barriers with their help.